As spring rolls around once more, many green-fingered folk will be looking forward to getting back out into their gardens.
Like Personal Growth on Facebook
Gardening is a pastime that has experienced somewhat of a revival in recent years with record numbers of millennials becoming eager to 'dig in' and get their hands dirty.
But aside from being an enjoyable hobby, gardening can have a number of benefits for mental, physical and emotional wellbeing.
Try your hand at gardening this spring and it won't be just your crops that grow – here are a few ways that your mind, body and soul will also flourish.
1. Nature
Being at one with nature is a naturally calming experience. The quiet environment of the garden and the repetitive, meditative act of gardening can be therapeutic, much needed down time from the pressures of modern day life.
Simply being close to the earth can have a calming, stress-relieving effect on us due to the electrons present in the soil.
2. Exercise
Gardening requires a lot of physical exertion but it is gentle enough exercise that people of any age or fitness ability can carry it out to some extent.
Stretching and bending to prune plants helps increase the suppleness of muscles and improves posture.
Carrying heavy watering cans is akin to weight training while pushing a lawnmower across your grass is resistance based. All of this exercise leads to a happier, stronger and healthier you.
3. Family Ties
Gardening can be a very social pastime – especially with the rise of allotments and community garden schemes.
It's also something that the whole family can enjoy at home. As humans, we thrive on social interaction and bond together over common interests.
This helps us to feel accepted and valued which in turn improves self-esteem. Strengthening family ties and working together to create something valuable is emotionally rewarding.
4. Accomplishment
There is something extremely rewarding about nurturing something until it becomes independent and fruitful on its own.
For those who grow plants and flowers, the end result is an aesthetically pleasing garden that they can enjoy.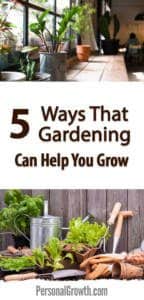 Those who grow produce have something from which they can feed their family. In any case, the pride and accomplishment associated with seeing the project through from beginning to end is also rewarding.
5. Healthy Food
There is a reason why vegetable gardeners are on the rise. These days it's often unclear what our food has been treated with, but growing your own means that you are providing your family with truly organic produce.
Not only is this financially beneficial, but it sows the seeds of healthier eating habits in children – Research suggests that those who grow their own food take an interest in healthier diets as they grow. And of course, you reap the benefits of delicious, fresh and healthy produce.
Write For Us!